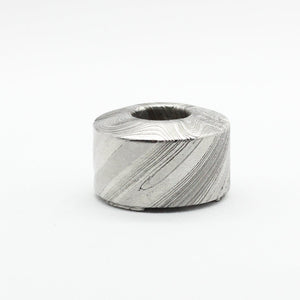 Reserved: Cx Stand (Damascus)
Tripod feet and drain hole to allow water to escape and to maximize airflow to help keep your Cx safety razor dry

Compatible with all Carbon Shaving Co. handles
CNC machined from USA forged stainless steel Damascus (Grade 304/316)

Designed, machined and finished in the USA

Free shipping (US and Canada only)

Technical Specifications:
~90g total weight (3.2oz)
Dimensions:

Outside diameter= 1.25"(32mm)
Inside diameter/Hole= .52"(13mm)
Hole depth=.59"(15mm)
Height= .78"(20mm)

High Polish Finish - Some machine marks are visible. Some scratches also exist. These can be seen under the stand and when magnified.
Maintenance:
Use a soft tooth brush with dish soap and water to gently clean your stand. Pad dry with a paper towel. Air drying is also OK.

Periodically, we also recommend gently boiling your razor in water for 20 minutes, followed by a 10 minute soaking in alcohol to help disinfect your razor.
A professional jeweler or watchmaker can also use a sonic cleaner and steamer to help keep clean periodically.
Cx safety razor not included