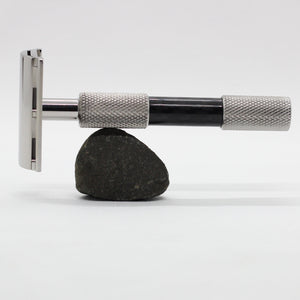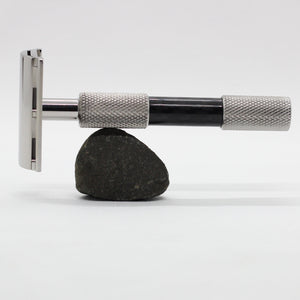 Cx-Atlas
Our second generation of Titan features our new Web Plate. "Lightening holes" commonly used in F1 race cars, aerospace, military and maritime designs, optimize weight and strength in designs. The open matrix structure allows for the free flow of debris, soap and water.

Atlas was a primordial Titan, considered the second generation of gods in Greek mythology. He was born from the original Titans. He was condemned to hold up the heavens for eternity...

The Cx-Atlas is made from some of the lightest and strongest material known to man. This generation of aerospace inspired Cx razor, continues to be made with USA titanium and carbon fiber. This is the lightest Cx we have made to date at ~30 grams.


Product Details:
Material: USA sourced Titanium(6AL 4V) and USA Carbon Fiber

All Parts Precision CNC Machined
Designed, Made and Finished in the USA
Thin-Vintage Design Inspired from the 1940 Classic Razor
Zero Plastic in Packaging

Free Shipping (USA and Canada only)
Technical Specifications:
~30 grams total weight

Your choice of a base plate, see base plate notes below*
Positive blade exposure
~90 mm handle length (3.5 inches) - 13 mm handle diameter (.5 inches)
Finish:
Hand sanded and polished base plate and handle

The carbon fiber has multiple layers of clear marine grade epoxy. The pieces are bonded together using a custom, specially designed epoxy.
High Polish Finish - Some machine marks are visible. Some scratches also exist. These can be seen under the cap, on critical dimensions and when magnified.
*Some notes to help you pick your Base Plate:


Original Base Plate -  This was our first design configuration, what makes this plate unique is the added blade exposure. It's still my personal favorite and has a .68mm with positive blade exposure. This design offers a lot of user control with the positive blade exposure. For a milder shave, you can change the angle or "ride the cap" for sensitive parts like the neck. For other areas, you can still have a good amount of efficiency.
- Base Plate -  This is our newest base plate. If you have sensitive skin, prefer less blade feel, have fine hair or just enjoy a mild shave, this is the one. Head shavers have enjoyed this one. This plate has our least blade exposure and a .71mm blade gap.

++ Base Plate -  This one is for those who like a very efficient option. This plate is still with positive blade exposure, but has less exposure than the + Base Plate. This razor has a larger 1.08mm gap. If you have thick hair and shave every 4-5 days or just like an efficient razor, this would be the one.