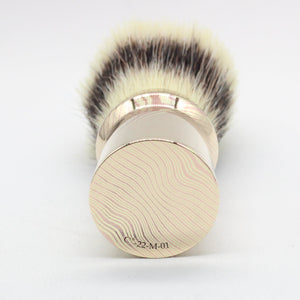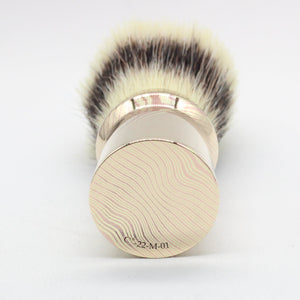 Mokume Shaving Brush - Hand Tied knot
We only make our products in small batches, this is our 2nd version of our shaving brush made from USA forged Mokume.
USA forged Mokume(copper and brass) by master blacksmiths Vegas Forge out of Las Vegas.

This new brush design brings a new balance point, larger knot(both diameter and loft), new ergonomic shape and larger maximum handle diameter compared to our first generation shaving brush.
Each brush is machined, assembled and hand finished in Minneapolis, USA...our knots are custom made and hand tied in Germany by local artisans.
The handle is machined from forged copper and brass mokume gane. The shape of the handle provides a natural grip point.

Every brush handle is laser engraved with our makers mark, material and a unique serial number with the year denoted.

Product Details:
Material: USA Forged copper and brass mokume gane

Forged, Machined, Designed and Finished in the USA (Shaving brush handle)

Custom designed, hand tied shaving knot - Made in Germany

Synthetic fiber shaving brush knot

Free Shipping (USA and Canada only)
Knot and handle length: ~3.7 inches (94mm)
Technical Specifications:
RK900 Knot: ~2.4" (60mm) knot height* / ~1" (26mm) Knot diameter**

1.2" (31mm) max. handle diameter

~3.6oz(102g)

High Polish Finish/Heat patina - Some machine marks are visible. Some scratches also exist. These can be seen when magnified.
We do not epoxy these knots into the base as the handle will patina and evolve, you might wish to change or update the patina in the future.
*Measured from the knot resin to the tips. The resin shaving brush knot rests deeper in the handle to provide additional stiffness or backbone, while still having a dense loft.

** The diameter of the shaving brush handle hole for the brush knot is 25.7mm