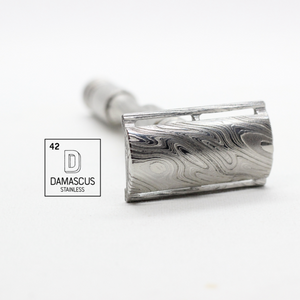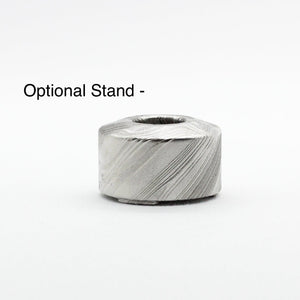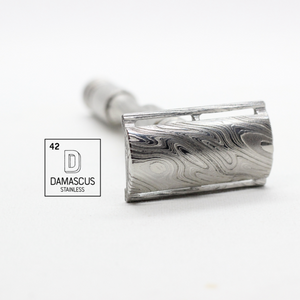 Custom: Cx-Damascus
These Cx Damascus models are custom made, the photos are images of pieces we have made, each piece is unique...

We plan to finish a small number of these pieces over the next few months. Each Cx is individually engraved with its own unique, specific name, no 2 are alike.

These pieces, feature our "web" base plate in all Damascus stainless steel(forged grades 304 and 316). Damascus steel was used to forge swords of the past, they were renowned for their toughness and craftsmanship.
Technically the term for this metal is "pattern-weld" as the true secret to the original "Damascus steel" was lost to time in the 1800's. Each base plate, handle and top cap was individually machined, etched, hand sanded and polished. The Damascus steel was custom forged in the USA by legendary jeweler and blacksmith, Chris Ploof.

Material:
All stainless steel Damascus (Grades 304/316). Custom forged in the USA.
Finish:
The "Web" base plate, cap and handle are individually etched, hand sanded and polished.

Each pattern is unique, no 2 are the same
High Polish Finish/forge marks - Some machine marks are visible under the cap.

Technical Specifications:
~86 grams total weight
Positive blade exposure
92 mm handle length (3.6 inches) - 13 mm handle diameter (.5 inches)
Maintenance:
We recommend keeping your razor clean, remove blade, use a soft tooth brush with dish soap and water to gently clean your razor. Pad dry your razor thoroughly after with a paper towel. Air drying is also OK.

Periodically, we also recommend gently boiling your razor in water for 20 minutes, followed by a 10 minute soaking in alcohol to help disinfect your razor.
A professional jeweler or watchmaker can also use a sonic cleaner and steamer to help keep clean periodically.
Base Plate Options:
All base plates have positive blade exposure
Your choice of a base plate, see base plate notes below:


Original Base Plate -  This was our first design configuration, what makes this plate unique is the added blade feel. It has a .68mm blade gap with positive blade exposure. This design offers a lot of user control with this exposure and gap configuration. For a milder shave, you can change the angle or "ride the cap" for sensitive parts like the neck. For other areas, you can still have a good amount of efficiency. I would not recommend this one if you have sensitive skin. If you have course hair this could be a nice choice.

-/Mild Base Plate -  If you have sensitive skin, prefer less blade feel, have fine hair or just enjoy a mild shave, this is the one. Head shavers have enjoyed this one. This plate has our least blade exposure and a .71mm, our smallest blade gap. If you have sensitive skin, straight hair, curly hair or shave everyday...this is a nice choice.

+ Base Plate -  We reduced the blade exposure from the original but increased the gap to .88mm. This is a nice option if you prefer less blade feel, yet still enjoy a higher efficiency in a razor. This plate is also a nice option if you have dense hair or only shave every 2-3 days...if you are unsure what base plate is right for you, this is probably the one. You still have a good amount of user control with the positive blade exposure to adjust the efficiency with technique and blade choice.

++ Base Plate -  This one is for those who like a very efficient option. This plate is still with positive blade exposure, but has less exposure than the + Base Plate. This razor has a larger 1.08mm gap. If you have coarse hair, shave every 4-5 days or just like an efficient razor, this would be the one.