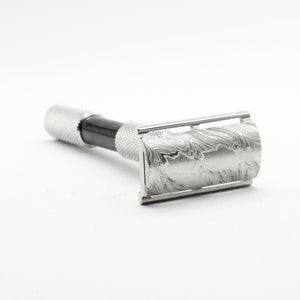 Reserved: Cx-Avem. - Damascus, 316L Stainless steel and Carbon Fiber.
Carbon Shaving Co. is proud to offer the Cx-Avem, "Avem" is the latin translation for bird.
Our "Web" plate design allows us to use the minimal amount of material to achieve the strongest and lightest base plate. The web plate also helps you to minimize clogging and allows you to flush water through your razor during shaving.
The concept of "lightening holes" is a good example of a vintage design principle used to make designs lighter. This design structure has been used extensively in military, aerospace, marine and auto racing designs.
Every Damascus cap is unique, like a fingerprint, no two are alike. We pair a stainless steel Damascus cap(grades 304 & 316 stainless steel) with a 316L base plate, the handle is made from locally sourced carbon fiber and 316L marine grade stainless steel.

Material: Stainless Steel Damascus cap (Grades 304/316), 316L stainless steel base plate and Carbon Fiber/316L handle.

Finish:
The cap is individually etched, hand sanded and polished.

High polished "Web" base plate

Each piece is marked with its own unique serial number
High Polish Finish/forge marks - Some machine marks are visible. Some scratches also exist. These can be seen under the cap, on critical dimensions and when magnified.
Technical Specifications:

~53 grams total weight
Your choice of base plate, we will reach out for your choice prior to shipping.

~92 mm handle length (3.6 inches) - 13 mm handle diameter (.5 inches)
Maintenance:
We recommend keeping your razor clean, remove blade, use a soft tooth brush with dish soap and water to gently clean your razor. Pad dry your razor thoroughly after with a paper towel. Air drying is also OK.

Periodically we also recommend gently boiling your razor in water for 20 minutes, followed by a 10 minute soaking in alcohol to disinfect your razor.
*Base Plate Options:
All base plates have positive blade exposure

Original Base Plate -  This was our first design configuration, what makes this plate unique is the added blade exposure. It's still my personal favorite and has a .68mm with positive blade exposure. This design offers a lot of user control with the positive blade exposure. For a milder shave, you can change the angle or "ride the cap" for sensitive parts like the neck. For other areas, you can still have a good amount of efficiency.
- Base Plate -  This is our newest base plate. If you have sensitive skin, prefer less blade feel, have fine hair or just enjoy a mild shave, this is the one. Head shavers have enjoyed this one. This plate has our least blade exposure and a .71mm, our smallest blade gap.

+ Base Plate -  We reduced the blade exposure from the original but increased the gap to .88mm. This is a nice option if you prefer less blade feel, yet still enjoy a higher efficiency in a razor. This plate is also a nice option if you only shave every 2-3 days...

++ Base Plate -  This one is for those who like a very efficient option. This plate is still with positive blade exposure, but has less exposure than the + Base Plate. This razor has a larger 1.08mm gap. If you have thick hair and shave every 4-5 days or just like an efficient razor, this would be the one.